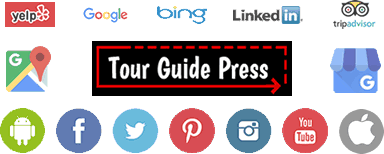 Disclaimer: The Community Network is not a magical click a button and all your problems are solved solution. It is a collection of dozens of tools and resources that can work together to engage with prospective and existing clients; build brand authority; and improve your business or organization.
There isn't really a step-by-step explanation; it all depends upon your goals and skillset. But it does start by creating a free membership profile. Please contact us for advice and recommendations. We'll help find ways to balance your Time, Effort, and Money.
The community network is a marketing hub where small businesses can operate individually and do their own thing, or they can take advantage of the power of the crowd and get more out of their efforts while spending less.

Boost Brand Content Marketing and SEO to get mentioned and discovered in more places.

Increase Conversion Rate Optimization to close more business with existing number of prospects.

Enhance Social Media Marketing with more things to talk about.

Take advantage of co-operative advertising to lower management costs.
How Can You Use The Community Network to Your Advantage
Scenario: travel agents recognize they need to do more effective marketing to not just find customers but to build a foundation for their business. Tour operators understand that paying advertising and fat commissions to OTA's that simply add you to the list is not sustainable. Other businesses located in the destination are hungry for business and willing to work together to promote things. They are all interested in some kind of co-operative / co-marketing arrangement. But how?
Solution: for free... each business signs up for a TGP membership. They complete the member profile with as much info as possible. They then start taking advantage of the Social Bookmarks feature of the network and post a fresh description, image, and link to their partner's website and/or social profile. Then they start sharing these profiles on their social media accounts. It really is that simple to give brands a boost. Then post articles on web2 and GMB website that discuss how your partner/peer is solving problems for travelers & vacationers.
Meanwhile: they all need decent websites that are properly optimized for speed, mobile, SEO, structured data, conversions, and relationship marketing. Social media profiles should be established even if not really using those channels (the more verifiable brand identity the better). Google My Business (GMB) should be seen as a high priority for marketing tasks.
Solution(s): for paid subscription... Directory listings connect brands with content and social profiles. Website/blogs have all the necessary features and functionality any business needs to succeed. Authorship article posting build Authority, Expertise, and Trustworthiness (E-A-T) scores for content creators.
Open System: the community network extends the philosophy established by Wordpress open source, general public licensing. We welcome 3rd-party contractors and agencies to use the network to help their clients. Everything is non-proprietary, just the way the internet was intended.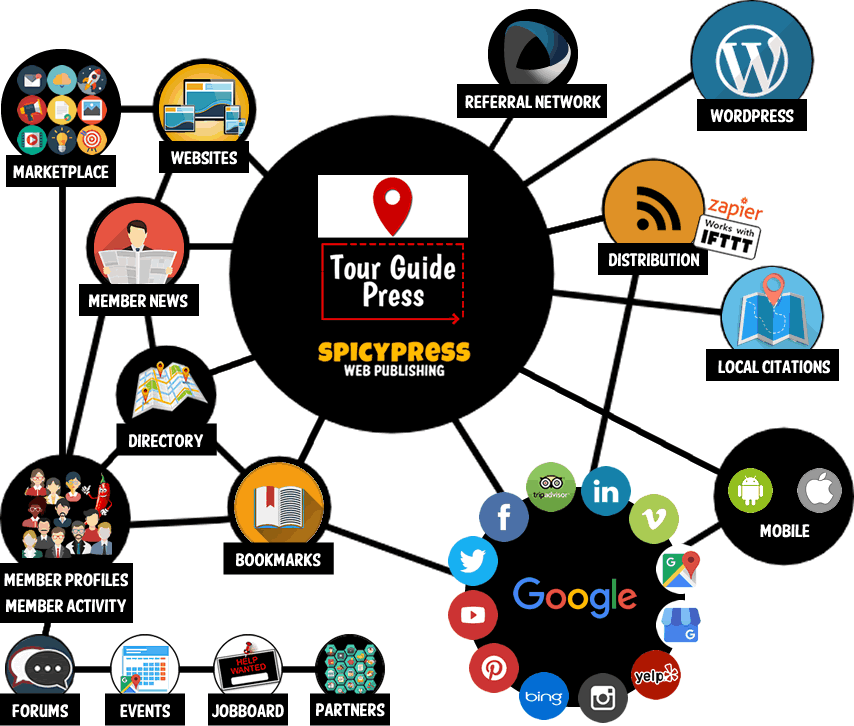 How Do People Find Out About Your Products & Services?
---
How Do They Know You Are Trustworthy and Offer What They're Looking For?
---

What Do People Find When They Search Your Brand?
---
Do you do co-marketing and work with peers, or nearby related businesses?
---
Do you engage in guerrilla marketing?
---
Do you have a blog? or a website?
---
Do you use social media for business and really make it work for you?
---
Are you listed in a variety of local and niche relevant directories?
---
If you're advertising are you getting the best possible return on investment from targeted landing pages?
---
Are you encouraging and getting testimonials, referrals, and reviews from customers (and showing these on your website)?
---
Do you communicate and cooperate regularly with your peers, partners, and customers to improve things?
---
Are You Producing Evergreen Content? (do you know what that means?)
---
Do you know if your brand website meets Google E-A-T quality guidelines?
---


If you don't... then you need to get busy.
If you do... then you need to get busier.
Digital Marketing Cooperative
An Easier Way to Get to Where You Want to Go
Business Development Platform, Tools, and Services for:
Professional branding to increase positive web presence;
Legitimate relevant editorial links to boost off-site SEO for existing external websites; and structured data to strengthen your local SEO;
Data relationships to establish identity and authority through verifiable profile connections and activity [one of the first things Google indexes are profiles and user activity];
Enhance trust factors by getting more results in informational & navigational searches (people search your brand, see a lot more results);
Give Google the structured data snippet to associate your Google My Business (GMB) account with your social media profiles and get them displayed on the Google Knowledge Panel;
Reputation management control by encouraging more authentic reviews and referrals and displaying real reviews from Google, Tripadvisor, Yelp, and Facebook (keep people on your site and not wandering off on social media);
Social media marketing automation (post content in one place and distribute to multiple accounts on multiple networks), automatically add curated intro/summary text to posts;
Relationship marketing to get found by people, and stay in touch for repeat business and to generate referrals & reviews;
Customer acquisition and retention (get more customers and keep them coming back);
Maximizing content marketing potential through strategic creation and distribution placement;
Leverage crowd marketing - to build brand authority and get longer lasting value from social media activity;
Analytics data to better understand what potential and existing customers are interested in, how and where they make decisions, where visitors come from, and what people respond to and how they behave on your website; allowing you to adjust messages, layouts & designs.
Affordable and effective digital marketing and small business promotion.

Social, Search, and Content Marketing

How it Works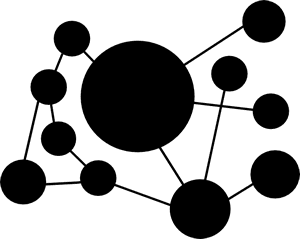 How It Works
Content Marketing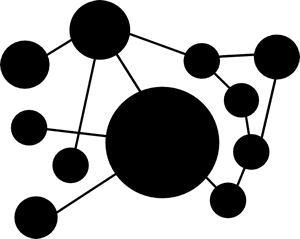 "As a writer, you should not judge, you should understand."

 – Ernest Hemingway 
Just as there is more than one kind of customer, there is more than one way of reaching your target audience.
Successful content marketing begins with understanding your own purpose for distributing information, and then figuring out your reader's intent, and how these people find stuff and make choices.
Content is more than just what people read, it's what they experience. Videos, galleries, audio, games, polls, quizzes, discussions, reviews, testimonials ... and more. You want people to engage, react, follow, and share; and you want them to return for another visit.
The trick is developing the strategies and doing the necessary content creation and distribution tasks both efficiently and effectively. For most small businesses this comes down to balancing your available Time, Budget, and Effort.
Tour Guide Press gathers dozens of resources together into an affordable toolbox used to create, display, distribute, and connect ideas, information, and people. It is a business development platform to attract and deal with customers, and build brand awareness & authority. It is also a place to learn about and perform important marketing tasks, and to outsource work without breaking your budget.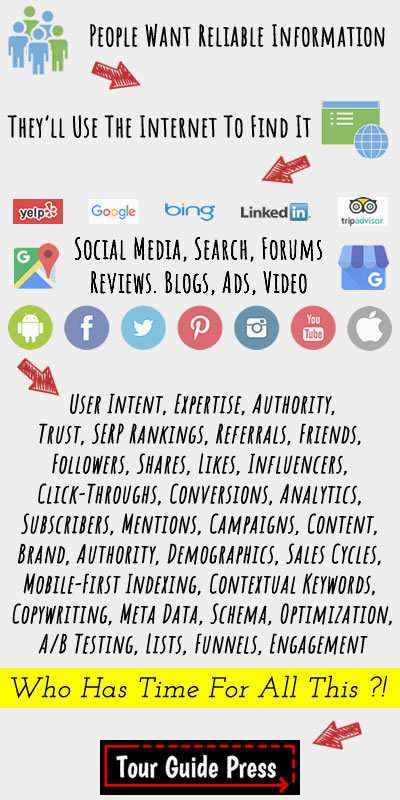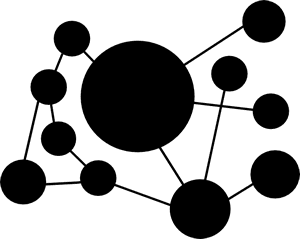 How It Works
Crowd Marketing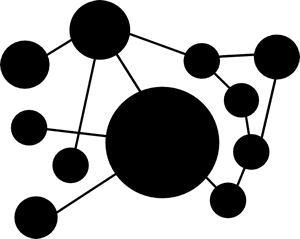 "Don't follow the crowd, let the crowd follow you."

 – Margaret Thatcher 
The tourism, travel, and hospitality industry is made to order for crowd sourced marketing.
Get the Crowd to do the Heavy Lifting For You
Whether you see social media as a critical 'trust factor', a source of leads, or a channel for direct communication with customers, it is important to include it in your sales process. The key to social media and crowd marketing is figuring out how to funnel people's focus and activity back to your core online property where you can keep their attention - in other words how to get people to your website, convince them to come back, and keep them there as they make purchase decisions, and/or help you with reviews and referrals.
Social traffic might also influence Google search algorithms in calculating your authority and search results.  Even if people aren't going to be your customers you can still gain value from their activity. 
Finding the particular online places where your potential customers spend time is worth taking the time to figure out - paying attention to analytics of where your customers come from, and how well they engage with you over time can be very valuable.
Harnessing the power of the crowd is not easy - but the TGP Community Network provides the platform and tools to take advantage of trends that reflect what people want to do. 
Members are encouraged to comment, share, link, and promote each other to build authority and relevance for social profiles, content, and web properties. Generous referral rewards provide added impetus to take action.
Your existing and potential customers are prompted to read and create reviews and testimonials on the network and other authority sites. 
Real reviews from Facebook, Yelp, Tripadvisor, and Google can be displayed on hosted Websites/Tier 1 Blogs.
Want to be an Authority in Your Niche?
Talk more about solutions & answers, less about yourself.
The Community Network provides an endless supply of relevant and interesting "things to talk about" that engage your audience and connects your brand identity to "things that matter".
For Example: In your social media accounts you could discuss your community network blog post that explores how your peers (different type company in your geographic location or similar company in different location) do something interesting that customers like, is an ethical trend, or makes managing things easier, or exhibits good corporate social responsibility.

You can Social Bookmark your post and then share that bookmark - which shows up in your profile Activity, that gets crawled and maybe indexed and tracked by Google.

From your blog post that is not "selling something" you can link to your primary website referring to your site as a solution, this editorial backlink is a data relationship of relevant content that people have shown to care about - Google looks for this.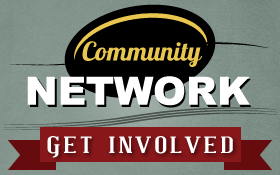 You now have something new and different to show your current audience, that they will share, which in turn establishes user engagement 'data points' mentioning your brand, location, niche, and solution to a problem (this is the Marketing/SEO holy grail).
This means that you can not just boost the authority of your original content and attract more visitor traffic to it, but you can also boost the SEO value of the links discussing it. This creates a much bigger footprint of positive engagement and trust. And once things are setup, it takes very little time and effort.
Website/Tier 1 Blog posts can be scheduled for automatic syndication across multiple social profile accounts, and social content can be displayed on your blog.