Web Publishing Community Network
Digital Marketing Cooperative
This is where P
eople find information, and ...
Charter & Tour Operators, Travel Agents, Independent Guides, Transportation Services,  Attractions and Points of Interest, Destinations, Activities, Accommodations, Restaurants, Bars, Writers, Advocates, Enthusiasts, Influencers, Agencies, Entrepreneurs, and Marketers ...
... build their Brands.
Reaching goals can be difficult.
Community marketing makes it easier.
If you want to:
Attract More Customers

Build Online Brand Authority

Communicate Effectively With People
And you like the idea of:
Sharing Resources to Reduce Costs

Flexibility of Doing Things Yourself

Convenience of Hiring Qualified Help

Crowd Marketing For Better Results

Creating Lasting Value
Tools, Services, and Knowledge
Found Here
Community Network
Do It Yourself - Done For You - Do It For Others
Discover the Power of the Crowd
Connect Quality Content with Your Brand Social Identity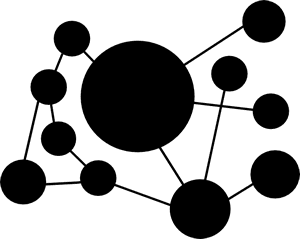 How It Works
Content Marketing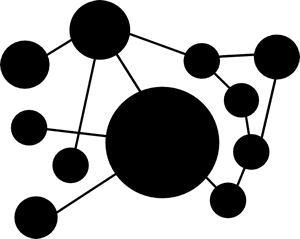 People follow links.
Search engines follow links.
Connect your content to get found and build authority.
Tour Guide Press is a toolbox used to create, display, and connect ideas, information, and people. It is a business development platform to attract and deal with customers, and build brand awareness & authority. It is also a place to learn about and perform important marketing tasks, and to outsource work without breaking your budget.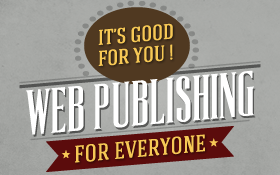 Very few people make a purchase decision the first time they discover information about a company, product or service.
It is imperative to develop a content and relationship building sales funnel with a variety of ways to get your message in front of people,  keep their attention, and to convert the all-important Call-to-Action (which can be anything from social shares, to newsletter signups, to booking orders, or getting real testimonials, reviews and referrals). 
Hosted Blog & Website plans include proven solutions to attract an audience, develop relationships, and convert visitors into customers. Directory Listings include advanced features to boost brand SEO; Social Bookmarks, Events Calendar, and Job Board work to engage people and generate data signals for search engines.   
Topic Collections, Knowledge Base, and Solution articles offer info and ideas. Forums are great for exploring and discussing what you might want to do and how to do it. The Marketplace is where you can hire help; and a Referral Rewards system brings it all together.
Community networking attracts attention to your brand or offer, builds name recognition, improves communication, and influences opinions. Marketing tasks become more effective, more affordable, and easier to manage.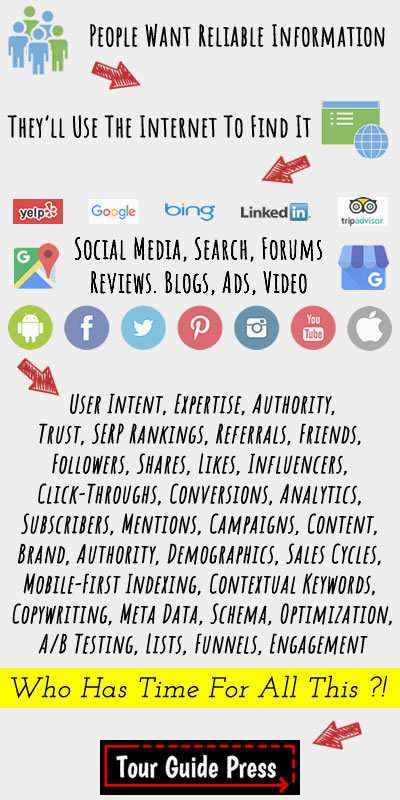 Did You Know That...
Members can submit social bookmarks to display info about interesting and relevant webpages and share these links on social media? Signup for a free community membership, then head over to Social Bookmarks and submit your link.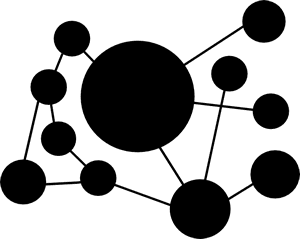 How It Works
Authority Building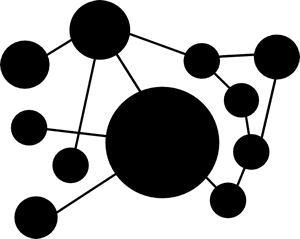 Your Target Audience Deserves Respect
Trust Factors Are More Important Than Ever
The new paradigm of internet marketing is to continuously work to improve your Expertise, Authority, and Trustworthiness (E-A-T) score so that your Brand will be more visible and attractive to prospective customers, and to make sure existing customers don't forget about you and that they refer people to your business.
Because people and search engines are interested in solutions to problems and/or answers to questions, carefully crafted content marketing and social connections can boost 'data relationships' and 'authority signals'.
Search engines use these factors (and many others) to determine search results. And even more importantly, "mentions" help people discover and understand what you're about and whether or not they want to do business with you.  
Authority Requires Certainty
By connecting brand identity with verified location (GMB, maps) and real author personas (social profiles & activity), together with niche relevant Engagement (comments, forums, solution articles, etc) - customers respond, and search engines reward you by showing information to interested people.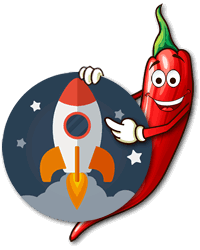 SEO Your Brand Across the Web
Give both People and Google (and Bing) what they want: inform users, educate your audience, or bring awareness to your cause or company.
Generate mentions and connections to and from relevant content; provide as much verifiable profile information as possible. Google indexes user activity.

Create, Publish & Distribute Content Across Multiple Social Accounts
Establish Rich Author Persona Profiles with Engagement & Activity

Encourage Ratings, Reviews, Testimonials, Shares, and Referrals
People and Search Engines Will Become More Aware of Your Brand
SpicyPress - How Ideas Get Published
Did You Know That...
Directory listings have advanced features for brand search optimization and authority building including Google Maps location data, schema structured data, and the ability to display real reviews? Claim or add your listing on the Tour, Travel and Hospitality Directory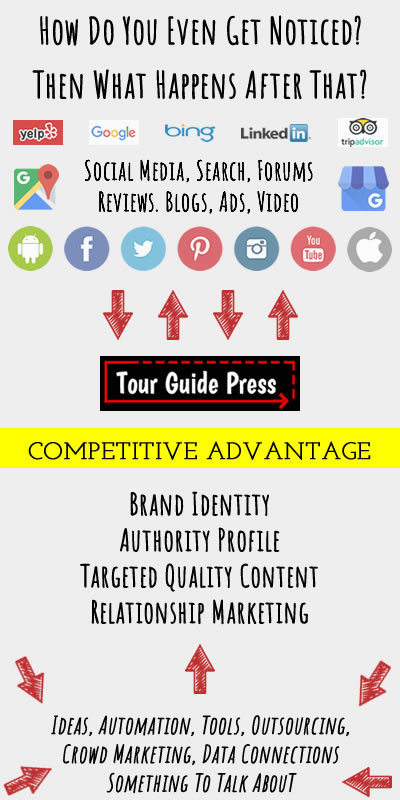 Resource sharing means you can get a professional-grade managed website for a fraction of what you'd normally expect to pay; plus the flexibility of DIY do-it-yourself or outsource design, development, & marketing tasks.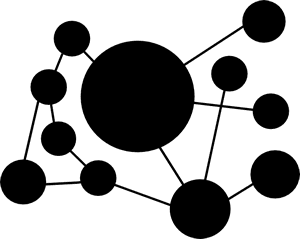 How It Works
Crowd Marketing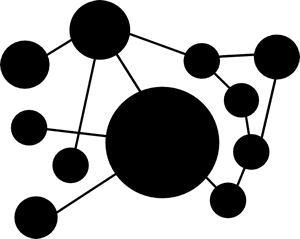 Know any influencers or thought leaders?
Want to be one?
Passive citations are good. Active engagement is a heck of a lot better.
Members are encouraged to comment, share, link, and promote each other to build authority and relevance for social profiles, content, and web properties. Generous referral rewards provide added impetus to take action.
Your existing and potential customers are prompted to read and create reviews and testimonials on the network and other authority sites.  Real reviews from Facebook, Yelp, Tripadvisor, and Google can be displayed in Directory listings and hosted Websites/Tier 1 Blogs.
Want to be an Authority in You Niche?
Stop Talking So Much About Yourself
Target audience Intent and Interests should be your marketing priority and it is worth the time and effort to figure out how to develop content and communications that are compatible with what people want.
The Community Network provides an endless supply of relevant and interesting "things to talk about" that engage your audience and connects your brand identity to "things that matter".
For Example: In your social media accounts you could refer to your community blog post that explores how your peers (different type company in your geographic location or similar company in different location) do something interesting that customers like, or makes managing things easier, or exhibits good corporate social responsibility.

Take it up a notch and Social Bookmark your post and then share that bookmark - which shows up in your profile Activity, that gets indexed and tracked by Google.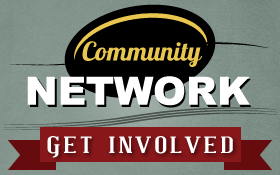 You now have something new and different to show your current audience, that they will share, which in turn establishes user engagement 'data points' mentioning your brand, location, niche, and solution to a problem (this is the Marketing/SEO holy grail).
This means that you can not just boost the authority of your original content and attract more visitor traffic to it, but you can also boost the SEO value of the links discussing it. This create a much bigger footprint of positive engagement and trust. And it takes less than a minute.
Website/Tier 1 Blog posts can be scheduled for automatic syndication across multiple social profile accounts, and social content can be displayed on your blog.
Socialized content attracts a much wider audience and strengthens search authority. Diversified messaging is part of a larger sales funnel directing your target customers to the point of sale. Leveraging the same content in different (appropriate) places has a multiplier effect.
Want Authority? Storytelling is a content trend that both people and search engines show interest in. Talk about what you like about other leading Brands. Indicate Location info. Be clear about the relevant Niche. Focus on reader Intent - identify what problem they are trying to answer, and where the solution can be found. Stay Active. 
Did You Know That...
Members can signup for a subscription to be Authors and submit featured News and Information Articles that get promoted to connect their problem solving ideas with their brand? Find out more about Member Submitted Content.
Do-it-Yourself DIY

Done-For-You DFY

Do-It-For-Others DFO
A compelling factor about community marketing is that any visitor traffic that arrives on any part of the network extends authority benefits to all members without distracting or diluting the visitor intent. If you're into Win-Win, join the community.

Community Network resources make things easier and more effective. 
Membership levels grant access to various tools. Signup/order for only the subscriptions and services you need. Learn tips, tricks and strategies; ask and answer questions on the forums; get free or premium support.
Basic Membership (free) allows you to connect your social accounts to the travel and tourism niche (keep reading to learn why that is valuable and important).
Third-party contractors and agencies are invited to join regular members to promote travel, hospitality, and tourism related businesses and organizations.
Content You Create In One Place Can Be Seen and Accessed From Multiple Places - Saving You Time and Effort While Getting More Direct Results & Building Authority
Did You Know That...
Managed and hosted website and tier 1 blog plans include premium themes and plugins at no additional cost to you? And you can use your own domain name or just use an extension. And they are optimized for mobile and local search. Read More Here
Focus on What You're Good At
Balance Your Time, Money, and Effort with
Self-Service Tools & Outsourced Services

The Most Valuable Marketing Tool For Small Business is a Quality Website
The Community Network is a Good Place to Host your Primary Website,
or a Tier 1 Authority Blog Linking to your Mainsite
Go Ahead and Show-Off a Little
Get a Dollar-a-Day Premium Full-Featured Site
Incredible Value with
Pre-Designed Templates That Make It Quick and Easy and
Huge Selection of Professional Grade Tools
Included At

No Extra Costs
Get a Quality High-Performance Website in Just Minutes using
Pre-Configured Cloned Site Setup
Use Your Own Domain or Simpy Have an Extension of Tourguidepress.com
Customize Quickly and Easily with Page Builder Templates
Huge Selection of Premium Themes and Plugins Included in Plans

Display Real Reviews on YOUR website
(keep visitors from leaving)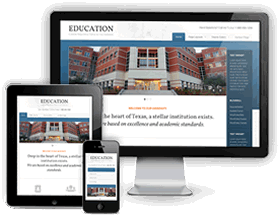 Do-it-Yourself DIY

Done-For-You DFY

Do-It-For-Others DFO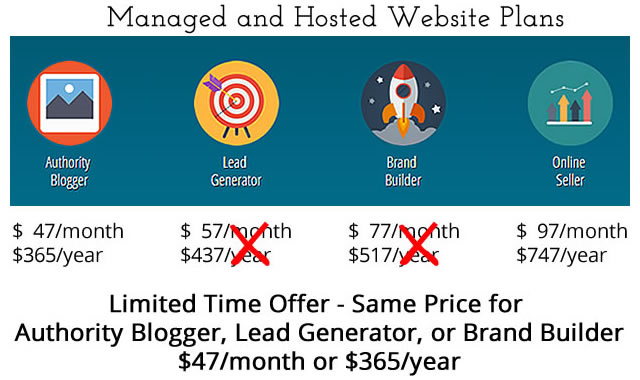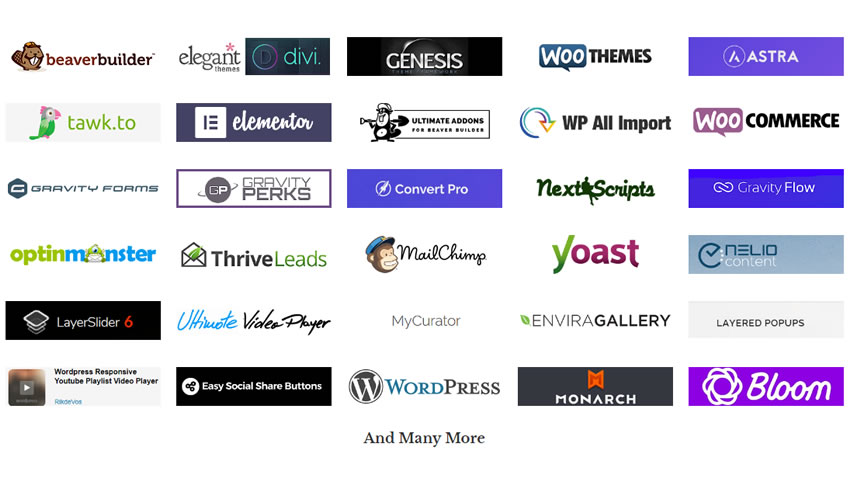 Easy Creation of Managed and Hosted Quality Websites and Tier 1 Blogs

Use Your Own Domain or Simply Add a Subsite Name
Your Site Will Be Created in About a Minute Using a Default Template

You Can Change Themes, Page Builders, and Activate Plugins 
Update Contact Info, Edit Content Text, Images and Forms, Connect Social Accounts & Autoresponder

Get DIY Assistance from Forums and Knowledgebase
Support Tickets Available for Critical Issues

Hire Help As Needed for Setting Up Your Site, Connecting with Social Accounts and Lead-Gen Autoresponders, Writing Content, SEO, and other common tasks

Community Marketing Solutions
"Focus on What You're Good At - Let the Crowd Do the Work"
and
"Never Pay Retail"
Generate Some Buzz for Your Brand
Members Can:
Create a Profile, Join Groups, Connect with Peers

Get a quality Website or Tier 1 Blog

Post Articles on Travel and Tourism Topics

Add or Claim Listings on Industry Directory

Find or Post Opportunities on Job Board

Find or List Marketing Services on Marketplace

Add Events to Industry Events Calendar

Bookmark Related Websites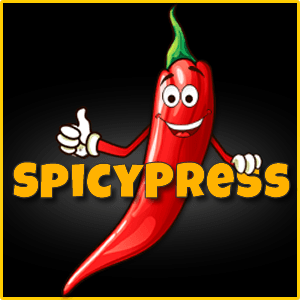 Do-it-Yourself DIY

Done-For-You DFY

Do-It-For-Others DFO
Content Marketing
Understand Your Audiences; Know What to Say; How to Say It; Where to Say It; and When to Say It. 
Create, Distribute, Display, Inform, Motivate to Take Action
Search Optimization
Use Authority Building On-page and Off-page Ranking Factors: Brand Signals, Relevant Quality Content, Data Relationships & Structured Data, Backlinks, Usability/User Engagement, Mobile-First Indexing, Linking Structures, Page Speed... 
Social Media Marketing
Have something to talk about and share; Connect your niche profiles with your social profiles; Post TO your social accounts from your site and/or post FROM your social accounts to your site; Share your social activity with your customers and peers; Curate useful content and do social bookmarking from this relevant site.
Lead Generation & Co-op Advertising
Tools, Resources, and Services to Attract New Customers including: Landing Pages, Email Autoresponders, Newsletters, PPC/Display Google, Bing, Facebook, Twitter Advertising. Follow conversion optimization best practices.
Did You Know That...
The Topics Collection is a curated repository of hundreds of articles from leading marketing experts. "Googling" your interests here will save you time and effort to find authoritative articles about SEO, Conversion Optimization, Web Development, Content Marketing, and other topics of interest. Check it Out

Directory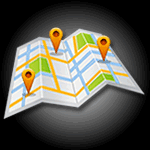 Quality Listings
Organized by
Location & Category
Bookmarks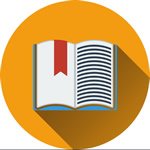 Member Posts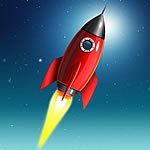 Websites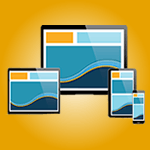 Managed Hosting
Do-it-Yourself
Done-For-You
Do-For-Others
Marketplace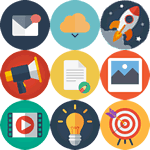 Products & Services
Affordable and Effective Resources
Members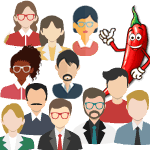 Membership
Authority Building & Resource Sharing
Advertising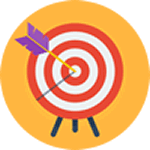 Events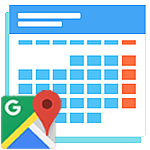 Calendar
Community Network Events Calendar
Job Board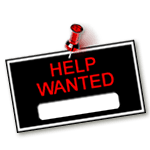 Partners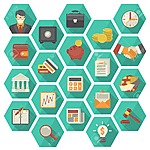 Referral Partners
Affiliates, Resellers, Agencies
News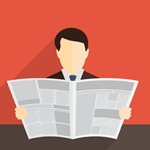 Forums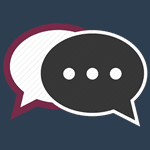 Knowledge Base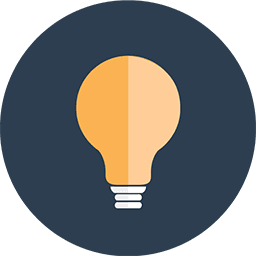 Support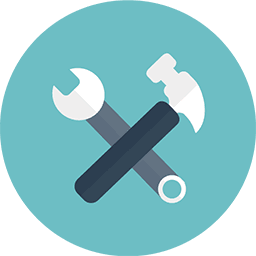 SpicyPress?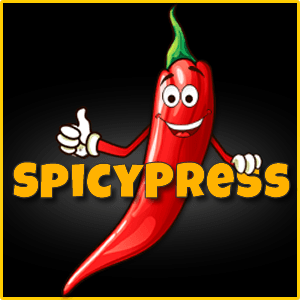 Website Design and Development Services