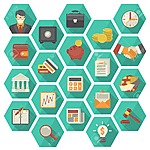 [ls_content_block info="page-title"]
Help Deliver Solutions to Small Businesses Around the World
Focus On What You're Good At
Let The Network Handle the Rest
Do You Know People in the Tourism, Travel, or Hospitality Industry?
(it's a rhetorical question)
You can increase your livelihood by helping the small business operators you meet on your travels.
You can develop your portfolio, get more remote work through network connections, and earn recurring income by referring people to the community network.
You'll discover there is no shortage of opportunity when you can deliver professional solutions quickly and affordably.
Even if what your client's need is not something you're experienced with.
If you're looking for ways to develop your own business, or simply want more ad hoc freelancing work, or just some passive side income, the Tour Guide Press community network might be a great resource for you. You can offer and provide everything from small tasks to big projects. You can outsource what you don't want to deal with; or be that 3rd-party resource.
Some Ideas To Consider
Barter and trade, earn commissions, one-time or ongoing recurring work, get paid directly from the client or through network partners, options for crypto.
Unique Selling Points
Fast Start - Quick Delivery
Very high quality
Scope and Scale As Needed
Repeat
Scenarios
You meet a resort owner that is doing okay but of course wants more customers. They understand their business fairly well but struggle with language and the new realities of social media, web development, SEO, and more importantly - what customers care about. You look at their website and cringe. Made by some local guy that is holding them hostage for every little change that takes weeks or longer to do. You're stunned when you find out how much they paid for the work. I know that's true because I've experienced it.
Things you can offer