Simply displaying an embedded YouTube video in your post is quick and easy to do, however there are other ways to present videos, particularly playlists. Displaying videos on your site can be done using several different popular premium plugins that are included in website plans.
To add a YouTube video to a WordPress post is about as easy as it gets.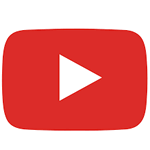 Go to the YouTube Video page you want to embed. Right click over the video itself and click Copy Video URL to copy it. Then go to your post editor page and in the visual editor simply paste the video URL where you want the video. WordPress and Youtube figure it out and the video should display for you. There are other nuances and things you can do, but that's the quick get it done approach. You can read more on the WordPress Codex. Most tutorials you find from searching make it seem more complicated than it really is. 
Hide YouTube Related Videos
Unfortunately Youtube no longer supports this great feature of not displaying the annoying video suggestions – an alternative to embedding YouTube is using Vooplayer or other video hosts. 
WordPress Responsive Youtube Playlist Video Player
A responsive video player to play YouTube playlists. You can enter a YouTube playlist id, channel id or a single video id as playlist source. The player is fully responsive and will resize intelligently, it also runs smoothly on mobile devices. The player has a custom designed interface, instead of YouTube's default interface. You can customize its appearance, and lots of other options and settings in the intuitive admin panel. The playlists can then be added to your pages or posts using a shortcode generator in the editor. See the Sales Page Here 
Elite Video Player – WordPress plugin
Elite Video Player is modern, responsive, fully customizable high-end video player for WordPress that support advertising and the most popular video platforms like YouTube (single, channel, playlist), Vimeo, self-hosting videos (only mp4 required), Google drive videos, Dropbox videos, local videos, Amazon S3 and LiveStreaming HLS m3u8 videos.. Showcase your videos in your site across all browsers & devices with this unique and most powerful video player around. See the Sales Page Here 
Ultimate Video Player
Packed with Features. See the Sales Page Here
Envira Gallery Video Addon
Would you like to create a video gallery for your site? With Envira Gallery Videos Addon you can easily create a beautiful video gallery. The Videos Addon will accept many different video services for your gallery. Tutorial Documentation Found Here